Merger to compete for top 90 AQ/ Plat AW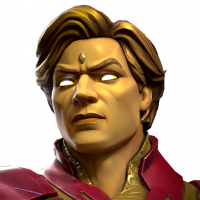 Junos_79
Posts: 234
★
We are a group that have been together for a while. Currently we are in a top 150 rank rewards alliance and we want to move up to the next tier which is top 90. In regards to war we want to get back to G1 minimum and compete for P4 and P3. We have a mix group of 13k, 12k, high 11k and one 10.9 prestige players.

In regards to AQ, we do map 7x5 full epics. I organize AQ paths combination focused in time availability for better movement and combining paths that will allow everyone spend little to no items. We also aim to finish AQ between 12 to 15 hours average to avoid having people playing during work hours.

We would like to join with a group that has similar goals and similar prestige. Also someone in this group that enjoys organizing war. We have been a G1 group for a long time before joining our current alliance with no one to organize war. If we have someone that has a good war strategy we would be in good position to achieve this.

This move doesn't have to be done right away. We can discuss how we would work things out before taking an official decision. My line ID is junos79

One more thing, wouldn't mind doing a double merger if you have a good group of 10k players interested in joining the ones in my alliance. They can all grow together at a similar pace.