**UPDATE**
We are currently working to fix a known issue regarding Alliance Prestige. With the introduction of Relics, Summoner Prestige is now the average PI of your Top 5 Champions and the average PI of your Top 5 Relics (regardless of which Champion they are attached to) combined.

Today we pushed a fix that will allow for proper reward calculations in Alliance Quests. However, the display for Alliance Prestige will not be accurate and does not include Relic Prestige. This is a display issue only.

LF AW GOLD1 (3BG)ALLY WITH (50M+, PI 11000+) & (3BG) AQ (5*5)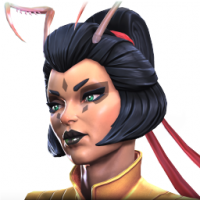 Abhi
Posts: 42
I am looking for a 3BG Gold1 ally (50M+, PI 11000+) that always completes 3BG Map5 AQ (5*5).
My in-game name is Abhi01. My Line ID is Abhix01.
If you are willing to recruit me please contact me either in-game or through Line.

PS: My timezone is GMT+5:30.