**KNOWN ISSUE**
Currently, Alliance Prestige (as it concerns Alliance Quests) is not taking Relic Prestige into account. If possible, we are working to address this for the next round of Alliance Quests but will have more information for you when it is available.
AQ Focused Alliance LF Active Map 5 Player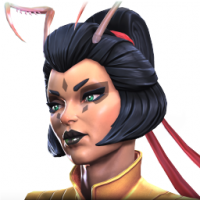 Tmick73
Posts: 98
★
Hi everyone,

We're looking to replace one of our long time officers who is taking a break from the game.

We're currently running 5/5/5 X 5 with 100% completion. We'd like to add a member who will consistently contribute to AQ. We also run one or two BG's for AW that are totally optional. We do well, but we play AW for fun. We have a great group of veteran players and growing accounts. We're also very well organized and communicate regularly on LINE. If you're looking for a solid, active team with no drama or bs, we're likely a good fit!

We all have jobs/kids/families/lives outside of MCOC. All we ask is that you contribute to the team by participating in AQ, communicate well, don't freeload and have fun!

Hit me up in game or on LINE if you're interested in joining. My ID is Tmick73 on both.

Don't hesitate to reach out with any questions to make sure we're the right fit for you!

Cheers!