**UPDATES TO ENLISTMENT GIFTING EVENT:**
To prevent exploitation, we will prevent new Accounts from being able to Gift enlistment crystals. We will also be taking action on those who are using 3rd Party Sellers, Bots and other farms to gift themselves mass amounts of Enlistment Crystals. Lastly, we will be adding an expiration timer to Enlistment Crystals. All unopened Enlistment Crystals will expire on Oct 18 @ 17:00 UTC. For more information, please see this post:
https://forums.playcontestofchampions.com/en/discussion/346104/updates-to-enlistment-gifting-event
**KNOWN ISSUE**
We have adjusted the node placement of the new AW maps to better allow path traversal. As a result, defender placements have been reset. Please, take a moment to re-place your defender setup. We will be pushing out a message in-game shortly.
Unit store grandmaster crystal offers.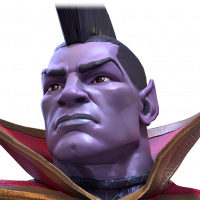 jadenphair22
Posts: 4
Those unit store grandmaster crystals are unlike any other crystal in the game. For sure they are just teasing crystals that have the smallest chance of pulling a 5* from the unit store grandmaster crystals. It is too unfair for the odds to pull a 5*. Noticing not just me seeing problems where a crystal will stop 2-3 seconds on a desired 5* and even the sound animation is tricking you in these crystals. But most of people even recording on YouTube of these Void crystals are experiencing these "tease" crystals. For my case there was two gigantic teases for a 5* blade that stopped on a 5* blade for 2-3 seconds and even made the sounds animation of getting the upcoming champ early. These crystals need a checkup for making PHCs looking like they have better odds at pulling a 4*.