**UPDATES TO ENLISTMENT GIFTING EVENT:**
To prevent exploitation, we will prevent new Accounts from being able to Gift enlistment crystals. We will also be taking action on those who are using 3rd Party Sellers, Bots and other farms to gift themselves mass amounts of Enlistment Crystals. Lastly, we will be adding an expiration timer to Enlistment Crystals. All unopened Enlistment Crystals will expire on Oct 18 @ 17:00 UTC. For more information, please see this post:
https://forums.playcontestofchampions.com/en/discussion/346104/updates-to-enlistment-gifting-event
Diversity Rating RUINING Alliance War!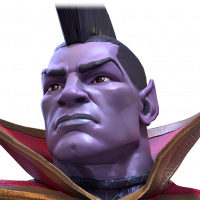 Unknown_Soldier
Posts: 154
★★
Before you updated Alliance War when you added diversity rating points and removed defensive kills, War was enjoyable! We won some we lost some......but it was fair. Now my alliamce has faced its 3rd loss in war due to this ****! I understand the need for Diversity to prevent the same champions being overused but not when its the deciding factor in EVERY WAR. We have made changes and adjustments to make sure we have a diverse team....but we shouldnt be FORCED to place garbage champions like Carnage or Iron Patriot in our lineup that will just hand a kill over to our competition! Nor should we be expected to get 16 MILLION in arena just to get newest champion!

Some people have no lives, have $1000s to spend a month on a mobile game with NO tangible asset, DONT have families and some of actually dont need to sleep and dont have to work......then theres the 80% rest of us that play your game. We play for hours we occassionally buy DECENT offers and would buy more if some your offers were $30 and reasonable.

When we actively participate in war have a higher defense rating and finish ALL the map and dedicate our time we EXPECT it to matter! Especially if we beat an Alliance that is 1-2 million above us who has more powerful champions......we EXPECT a victory every so often!

On another note we had 2X as many defense kills........oh wait you took defense kills out......WHY? If ur going to add Diversity then you should KEEP Defense Kills in as well!

Defense Kill points need to matter as well as completion needs to be a heavier importance. In a game of "random chance" for hero drops please consoder not everyone who spends has luck......War needs to be fixed ypur turning off a lot of potential LONG TIME players with using cheap mechanics that only cater to your big spenders! We spend money amd time on your game too......we should be able to compete in WAR and win if we play better And accomplish more.....adding defense kills back in would definitely help! 4 losses for ONE stat.....STUPID completely stupid!