UPDATE: A new Hotfix (v32.2.3) is now being released to address this issue. Please keep an eye on your App Store for this update to address the below issue.
We are currently experiencing an Error when Summoners view a Champion's Synergies while in the Champion Selection screen in Arenas and Duels. We are aware of this issue and are working on a Hotfix to address it. In the meantime, please avoid using the synergy menu to prevent this error and crash. We apologize for this inconvenience. Updates will be posted here:
https://forums.playcontestofchampions.com/en/discussion/293506/error-when-looking-at-synergies-from-champion-selection-screen
5* corvus or 6* angela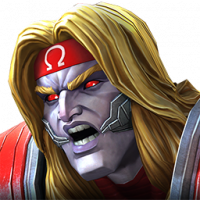 incognerdo77
Posts: 50
★
i'm really struggling with making this decision so i though i'd come here to ask for insight/advice. should i take 5* corvus to r5 or rank up 6* angela to r2? i consider myself a middle ground player. i have made one run through act 5 and intend on 100% exploration of it. i have no intentions of doing LoL. have already completed RoL. i can usually finish monthly EQ uncollected 100%. and i figure whatever i end up doing it will be a long time before i get enough t5b to rank someone else up. any help or insight helping me make this decision is greatly appreciated.