UPDATE: A new Hotfix (v32.2.3) is now being released to address this issue. Please keep an eye on your App Store for this update to address the below issue.
We are currently experiencing an Error when Summoners view a Champion's Synergies while in the Champion Selection screen in Arenas and Duels. We are aware of this issue and are working on a Hotfix to address it. In the meantime, please avoid using the synergy menu to prevent this error and crash. We apologize for this inconvenience. Updates will be posted here:
https://forums.playcontestofchampions.com/en/discussion/293506/error-when-looking-at-synergies-from-champion-selection-screen
Should I be focusing on 5/65s or 4/55s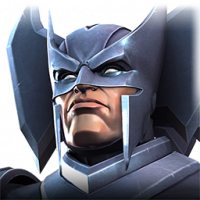 Reverend_Ruckus
Posts: 394
★★★
As far as content goes I've explored all of act 5, one run through 6.1 and rttl. I do Uncollected EQ everytime and master if I have time left. Everytime a challange comes out I usually beat it using my rank 4s. There have been multiple times where I could take a 5* to rank 5 but didn't know if I should. So my question to whoever reads this is what would you do?
Should I be focusing on 5/65s or 4/55s
27 votes