YOU UNCOLLECTED?? BECOME AN EVEN BETTER PLAYER!!!!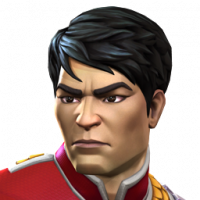 SciArtist
Posts: 56
★
AW Gold 3 alliance with over 9,000,000 rating recruiting.

Conclave X is looking to recruit a few new members for AW Season 9 and AQ map 4 and map 5 participants. We plan to continue growing in both AQ and AW over the next season but need to add a few new members to do so! If you aren't looking for AW and just want to focus on AQ, that's fine too - we can use more that can dedicate to 5x5 in AQ!

Prospecitve members should be active in the game, preferably uncollected, and have the roster and skills suitable for our level of content in AW and AQ.

Supplemental information:
Discord is required as we coordinate both AQ and AW from that platform.
We run 2 battle groups in alliance war.
We run 3 battle groups in alliance quest
Weekly AQ Donations = 45k gold, 0k BC, 2k loyalty.
Interested in joining or learning more? Contact me in game (SciArtist). Feel free to drop in on our Discord server, have a look around, and chat with some of our members (invite code 7K42ZSa).