Jean Grey: Non-Phoenix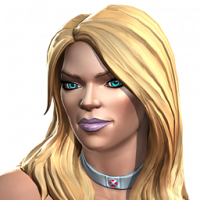 SlytherinMaster
Posts: 4
★
Jean Grey has amazing potential to be an interesting and fun character to play.
Some suggestions:

Heavy Attack: Telekinetic Blast
Jean knocks her opponent down with a quick blast of telekinetic energy from her powerful mind.

Special 1: Telekinetic Trip
Jean literally jerks her opponent's feet out from under them inflicting a quick, parry-esque stun.

Special 2: Come Here, Go Away
Jean yanks her opponent toward her with her telekinesis and then slams them back against the wall inflicting a stacked stun effect.

Special 3: Crush the Body and Mind
Jean envelops her opponent in a crushing telekinetic aura flinging them high into the air, slamming them down to the ground, and then slamming them against the wall with a final telepathic blow. If the opponent is not KO'd from the Special 3, a massive stun effect is inflicted.

Jean Grey: Awakened
Jean uses her telepathic powers to read opponents' skills and powers giving her a perfect block against heavy, special 1, special 2 attacks 75 - 100% of the time depending on the level of her awakened signature power (and the power level of her opponent).

Also as a Duped/Awakened character, Jean's special attacks pack much more power giving her increased critical damage.

Awakened Jean's Special 2 gives her a power steal 75 - 100% of the time depending on her power level and the power level of her opponent, while her Special 3 guarantees a power steal 100% of the time whether duped or not.

When an Awakened Jean Grey gets below 5% health, she surrounds herself in a last ditch effort Telekinetic Shield to give her Perfect Block for several seconds. This effect is 100% invulnerable to everything and anything for however many seconds it lasts no matter the power level of her opponent. (This particular Telekinetic Shield's duration depends on the character's power level and rank.)

Evade NEVER works with Jean Grey duped or not. Sorry, Spider-Man.

Jean uses her telekinetic powers to deflect automatic effects like Electro's static shock, Iceman's coldsnap, and Quake's aftershock. Her ability to do this effectively depends on her rank and level and whether or not she's duped.

Jean Grey: Unduped
Unduped Jean still packs a wallop, but her perfect block may not be so perfect all the time. Also, no last-ditch effort telekinetic shield.

Some possible character weaknesses (they all have them): She's not immune to much, if anything, so Jean depends heavily on her Perfect Block to deflect bleed, shock, poison, coldsnap, etc....

Synergies:
Obviously, with Cyclops and of course there would an X-Men synergy. Enemy synergy: Emma Frost, Magneto, Mr. Sinister. Jean should have a Phoenix Force synergy, too, superior to Emma's Phoenix Synergy.

This discussion has been closed.