Who should I awaken with generic gem?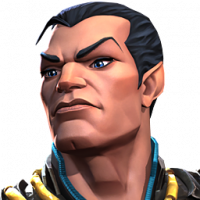 Octoberstack
Posts: 76
★
Building up my roster to start Act 5 and push for Uncollected, duped champs I plan on using include:

- 5/50 Blade (sig. 80)
- 5/50 Cap Marvel Movie (sig. 30)
- 5/50 Magik (sig. 20)
- 4/40 Iceman (sig. 60)
- 4/40 Warlock (sig. 20)
- 4/40 Sunspot (sig. 20)

Unawakened champs I could use are listed below (all 4/40, but I can take two of them up to 5/50 if needed).

Nick Fury I can wait and dupe from the arena next week (as I'll still be within the last couple days of the intermediate bracket), so currently I'm leaning towards either AA (for AAR against certain annoying abilities/nodes), Hyperion (for better power gain and parry/L1 spam against certain nodes), and Luke Cage (Indestructible would come in handy against the Collector and help me make the most of my Lv1 revives).

Who do you think should get the generic gem?

Who should I awaken with generic gem?
11 votes
Hyperion (go Homelander on em)
Luke Cage (can't touch this)
Thing (the best offense is defense)
Symbiote Supreme (I've got the moves like Stagger)
Darkhawk (didn't need all those sig stones anyway)