My experience with variant difficult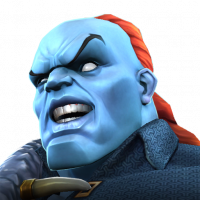 IKON
Posts: 388
★★★
I recently completed 100% exploration of variant difficulty, this was the most fun I've had in MCOC.

There was a true puzzle aspect to the quest, requiring a multifaceted roster that could handle all kinds of challenges. Yes, it will likely take a lot of units to complete, but well within the arena grinders capability. And yes, there are some paths, like degeneration nodes, that have no true counter. This is something I'd like to see removed, but at least there aren't many.

I used champs I never thought I would (Doc Ock was my chapter 2 MVP), which made it feel far more like I'd accomplished something compared to running labyrinth. Heimdall was amazing for chapter 3, as the synergy god let me end a lot of fights at 1 hp after making an error.

Rewards felt on point, my roster strength has significantly improved with the 2015 gems (Winter Soldier and Venom, holding a tech gem).I sincerely hope that another variant difficulty quest will come at some point (2016 champ gems perhaps?).