**KNOWN ISSUE**
Currently, Alliance Prestige (as it concerns Alliance Quests) is not taking Relic Prestige into account. If possible, we are working to address this for the next round of Alliance Quests but will have more information for you when it is available.
Gather Intel in Nick Fury's Recon Initiatives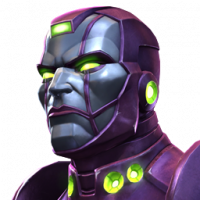 MCOC Team
Posts: 379
Administrator∙Moderator ›
Begin Transmission…

Summoners!

The Battlerealm is full of countless Allies and Enemies, and Nick Fury wants to know everything about all of them! Join him in a month long Event to gather Intel on the Champions of the Battlerealm!

Assist Nick Fury in gathering Intel, and trade that Intel for rewards such as Catalyst Fragments, Crystal Shards, and Hero Crystals! Assist him in all of his recon missions, and you'll have enough Intel to trade for a 5-Star Awakening Gem Crystal!

Your Mission, if you choose to accept it…

Over the next 4 weeks, we will introduce 1 Quest per week with 5 different Difficulty Levels. Each of these Quests is only 2 paths, with a buffed up Boss at the end!

Easy right? Here's where it gets interesting… Each of these Quests feature Champion Requirements, and each week your team will be limited to which Champions that you can bring in!

Champions will be limited based on their Universe Tags (which can be found on a Champion's info page). This means each weekly Quest can only be completed with Champions of that Tag.

Week 1: Avengers and Guardians of the Galaxy
Week 2: X-Men and X-Force
Week 3: Spider-verse Heroes, Sinister Six, and Symbiote
Week 4: Mercenaries and Robots

All Chapters will remain open until the end of the event, so you'll have time to 100% Explore the previous weeks Quest.

You'll need to complete harder difficulties to get more rewards, so make sure the Champions on your roster with those Tags are ready for a Challenge! We'll also be sending out another message each week outlining which Champions fall under said Tags.

For those of you that may need to expand your roster, special Crystals containing Champions that can enter these Quests will be available each week of the Event. Yes, that includes unreleased 2 Star Version of some of these Champions! This doesn't include Champions who are not in the base pool, such as Deadpool, Goldpool, Havok, Ultron (Classic), Vision, or special rarity exclusives such as 4-Star Rhino or Cyclops, 5-Star Gamora or Thor.

If you've become Uncollected, a Grandmaster version of these Crystals will also be available. Make sure you check out the crystal descriptions to see exactly which Champions are included in these Crystals.

Knowledge is Power!

The task is great, but the rewards are greater! Use your Intel in the Store to purchase rewards to assist you in your own missions across The Contest!

You'll find items such as Tier 5 Basic Catalyst Fragments, 5-Star and 6-Star Hero Crystal Shards, Awakening Gem Crystals, 4-Star Hero Crystals, and much more!

While Intel will mostly only be available in Nick Fury's Recon Initiatives, there will also be a Special Calendar that will award you a small amount for logging in every day! But don't miss a single day, because if you do, you'll be reset to Day 1!

Each of these items have purchase limits. Some, you'll be able to purchase up to 20 times, while others you'll only be able to purchase once.

For those that want to chase the 5-Star Awakening Gem Crystal, you'll need to complete every Difficulty of the event, and log in every day to claim your daily Intel from the Calendar! The Crystal costs 5000 Intel, and it's only possible to get 5740 Intel from normal play.

This Message Will Self Destruct…

Nick Fury's Recon Initiative begins March 6, 10:00 AM PST. With a new Chapter releasing each Wednesday after that. All Chapters will remain open until the end of the event on April 3, 10:00 AM PDT. So you'll have time to 100% Explore the previous weeks Quest.

End Transmission.

EDIT: If you're curious as the list of Champions that you can use, check out this list here. But keep in mind, the Crystals will not contain all of these Champions. Make sure you check out the list of Champions in the Crystal before you purchase it!
Post edited by Kabam Miike on