Summoners, due to a technical issue, this week's series of Alliance Quests will be cancelled at 4pm PT. There will not be any Rewards for this series. The next series of Alliance Quests will start on April 18 at 12pm PT. We will be assessing the impact on Alliances and compensating accordingly, as well as returning Alliance Tickets.
This is rough boys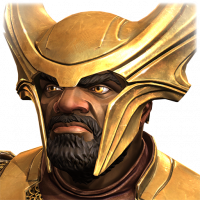 ẞlооd
Posts: 1,937
★★★★
Went in..
Did not come out lol
I'm really struggling with this quest. I think it's the stun immunity that's messing me up. I'm trying to bait SP1's and punish them with heavies, but I'm taking waaayy too much block damage for that. My intercepting skills are dodgy, but I'm guessing that's the only way yeah?