Get a Free 3-6 Star Baron Zemo this Week!
Log in to the Summoner's Market at
https://store.playcontestofchampions.com/
and claim the Baron Zemo Selector between 10am PT November 24 and 10am PT on December 1st.
Proven and Below: 3-Star
Conqueror/Uncollected: 4-Star
Cavalier/Thronebreaker: 5-Star
Paragon/Valiant: 6-Star
You can only claim this Baron Zemo one time. The Baron Zemo is delivered as a selector, claiming it will require you to choose your rarity immediately. If you plan to change your Progression level during the Cyber Week event, we suggest you wait until you have made that change before claiming this selector.
Due to issue with the "Not Another Anime Reference" Solo Event, we will be disabling the event for the time being. We will return the event at a future date when the issues have been resolved. We apologize for the inconvenience.
Known Issues [Current Version 24.3]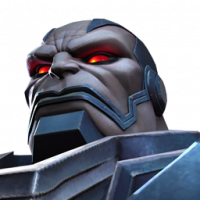 Kabam Miike
Posts: 8,003
Administrator∙Moderator ›
Here is a list of Known Issues and items that we are currently investigating:

- Champions with Whip/Tentacle like attacks are not making contact with part of the their Attacks (Carnage's Sp1, Ghost Rider's Sp1, Medusa's attacks that use her Hair, etc.)
- Domino's Heavy Attack Incinerate damage from Synergy with Red Hulk is not doing as much damage as it was previously.
- Yondu's non-Yaka Arrow basic attacks are being treated as Projectiles, and cannot be Parry-Stunned.
- Emma Frost's PI has jumped significantly
- Double Edge's Values in game are incorrect (FIXED)
- Some Champions are invulnerable longer than intended after their Special Attacks (Loki after Sp1, X-23 after Sp2)
- Sentinel is reacting too quickly after Sp1

Please note, we may not have reproduction steps on all of the above just yet, and this list may change as we get more information. We will add more to this lift if additional bugs are reproduced, and are not including Performance Issues.

Additionally, we are currently working on a Hotfix Release to address as many of these as possible.
Post edited by Kabam Lyra on
This discussion has been closed.