Hard Vs Money Grab....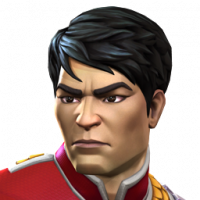 Unknown_Soldier
Posts: 149
★★
There is a difference between making a game a challenge and requiring skill and making a game so difficult you force the player to spend to play your game.

I am a veteran of your game (3+ years) and I have noticed the difficulty of your game go from challenging to impossible without spending.

Just played the 1ST path of both Elic Master of "Last Stand: Save Battle Realm" .......cant even reach boss to fight even ONE time.

1st Fight Juggs:
1. Hitting him FOUR TIMES gains 1 and bars of his power
2. SPAMS specials activates unstoppable so you cant hit him
3. Pushes you into corner and heavies u into oblivion and keeps special
4. Activate a L3 instantly gives him 3 bars of power

2nd Fight Dormammu
1. Same insane power gain pushes you in corner
2. Heavy you into corner,
3. Spam specials

3rd Fight Red Skull
1. Same stupid insane power gain
2. Waits to do specials has Asoect Death and kills you instantly with Level 3 special.

Your Options: Classic Captain America NO ONE ELSE. Even with soul stone.....cant even reach the boss!

Difficulty levels go from ridiculous easy to near impossible with NO middle ground. The easiest quests are a joke and offer no items of use for any Summoner above level
30!

Your Master has become Epic difficulty and your Epic/Uncollected has become impossible without spending.

You load the fights with BS nodes that cause unavoidable HIGH damage with NO counters, penalize your for using masteries that WE paid for or earned by collecting cores.

You nerfed willpower to the ground making it near useless against the DOT that cant be avoided. You needed the regen abilities of many of the champs.

Your AI waits and builds up power till special 3 when theres NO "all or nothing l" node on it.

You nerf God tier champs that you claim upset the balance in game then you introduce MORE God tier champs that have ridiculous abilities that counter BASIC mechanics in game (Domino, Modok, Infinity War Iron Man, Havok)

Buffet with 10%+ max health regen
Biohazard
200%+ power gain
Mesmorize
Auto Degen
Safeguard
Spiked Armor

ALL trash nodes with NO counter unless you have a specific champ....which suppose is what you wanted avoid with 12.0 nerf of a Scarlett Witch, Black Widow, Dr Strange


Does your team even play these levels before they introduce them to us?

I dont expect Master to be spend to play!