My gripe with AW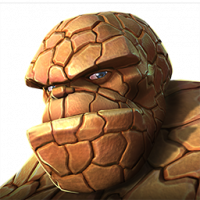 Demonzfyre
Posts: 5,640
★★★★★
So I was asked to take path 9 in war. Section 2 has 2 fights for me on that path for this war. A unduped quake on Confusion and a duped Kingpin on Greater Confusion and Force of Will. I know what I'm getting into on these fights and I mentally prepare for the first fight. Im going to block/parry and try to throw heavies until the 30 seconds is up.

Well, fight starts, champs are running in and I go to prepare to parry. Well Quake stops running as I'm begin to press block and I see shes about to throw a heavy. I tell myself, "you need to dash back, now!" I also remember its reverse controls. I my brain says swipe forward, but my instincts kick in and i swipe backwards. Plan ruined and a few more attempts at reverse controls and I'm dead. I sit there for a moment, mouth open, and dumbfounded.

I say all of that to say this- We need a way to practice these node combinations. Upgrade the dueling system to allow us to-
1. Pick the champ, rank, rarity, duped or unduped.
2. Pick node combos from AW or AQ based off of map difficulty.
3. Keep the same duel rewards.
4. Keep the same amount of attempts.

There isn't any other place I can think of were I can go and test these node combos out so its either succeed or die amd have my alliance laugh and get mad at me.

Lastly, im for the challenge of the nodes and they should stay. We just need a way to practice, so we aren't costing everything, every time.

**yes I know I need to git gud.
**yes I know AW isnt meant to be cleared.
**yes this has been mentioned before.
**yes I'm aware this isn't a pro-kabam post.