Community Discussion: Let's Talk about Warlock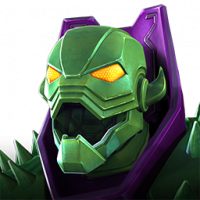 Kabam Vydious
Posts: 3,588
Administrator ›
With a wacky design and a strange walk, Warlock certainly made an odd landing into the Contest. But before that, he made a stranger one onto Earth. Originating from Kvch, Warlock is a Technarch with a father to rule it all, which seems cool from an outside perspective until you look closer. See the children of these 'techno-organic' lives would have to slay their parents to prove their worth and seeing as Warlock's father was the head honcho...well, he was very strong and it was a big deal come the day it was meant to happen. However, Warlock didn't want to do it. This caused him to be different and he noticed that only to have it mark him as a Mutant to his race. This struck fear within him so he fled the planet.
Warlock crashed through Magento's base and landed near Xavier's mansion only to sense the artificial intelligence that laid within it. However, rather than making friends with these other mutants--the tall techno-organic immediately clashed with these New Mutants. Unfortunately for Warlock he was near death after all of this and it took another young New Mutant (Cypher) to communicate with him to determine that he wasn't a threat. It was after this that Warlock became part of the team, proving to be a useful ally to the New Mutants and remained by their side throughout his time on Earth.
However, his father Magus was never far behind him.
I'm going to be honest, y'all. I really had no idea who Warlock was prior to us introducing him into our game but I went back and did some digging to find out. His design is actually pretty cool and his story is very intriguing. I wanna hear y'all's thoughts on him!
Did you guys know about Warlock prior to the game adding him? What are your thoughts on him being part of New Mutants? What about New Mutants as a whole? Their concept as a team is so jarring and cool, isn't it?