Get a Free 3-6 Star Baron Zemo this Week!
Log in to the Summoner's Market at
https://store.playcontestofchampions.com/
and claim the Baron Zemo Selector between 10am PT November 24 and 10am PT on December 1st.
Proven and Below: 3-Star
Conqueror/Uncollected: 4-Star
Cavalier/Thronebreaker: 5-Star
Paragon/Valiant: 6-Star
You can only claim this Baron Zemo one time. The Baron Zemo is delivered as a selector, claiming it will require you to choose your rarity immediately. If you plan to change your Progression level during the Cyber Week event, we suggest you wait until you have made that change before claiming this selector.
Due to issue with the "Not Another Anime Reference" Solo Event, we will be disabling the event for the time being. We will return the event at a future date when the issues have been resolved. We apologize for the inconvenience.
**BANQUET EVENT PSA**
To fully participate in the upcoming Banquet's Alliance Event you will need to be in your alliance for 14 days prior to the event's start date on December 20th. That means, stay in your alliance from December 6th onwards to enjoy all there is to offer in the Banquet event.
Version 13.1 Discussion Thread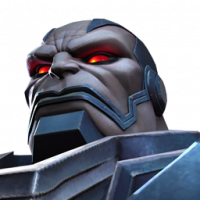 Kabam Miike
Posts: 8,003
Administrator∙Moderator ›
Marvel Contest of Champions v13.1 lands tomorrow! Find out what is new!

Character Updates
Civil Warrior:
• New Ability (Reinforced Armor): Civil Warrior now gains Bleed and Poison Resistance for each stack of Armor Up he has. This has no effect when fighting Cosmic champions.
• New Ability (Armor Up Conversion): When launching a Special Attack, Civil Warrior converts two armor up buffs into one permanent Armor Up passive effect (Maximum of 5 Stacks).
• Signature Ability is now more effective when fighting Mutant Champions
• Heavy Attack Heal Block duration is now increased from 3 to 5 seconds
• Armor Up Buffs can now be triggered when Civil Warrior lands an attack in addition to his existing triggers
• Duration for Armor Up Buffs has decreased from 10 to 7 seconds

Cyclops (New Xavier School):
• New ability allows Cyclops to strike with Critical Hits even while the opponent is Blocking.

Bug Fixes:
• Fixed an issue where players were experiencing a delay when trying to dodge (dash back) twice in a row
• Fixed a bug causing Defender Kills to not appear in Alliance Wars
• Fixed issue causing some Champions to miss attacks after Heavy Attacks
• Fixed issue causing Elektra and Gwenpool to not reduce the chances of the enemy evading attacks
• Fixed an issue where Doctor Voodoo's dash back distance was shorter than other Champions
• Fixed an issue causing The Hood's Stagger to be considered a Debuff. It is now correctly marked as a Passive effect to match other Stagger Effects
• Fixed an issue causing Karnak's Special 1 to break Focus Ability
• Fixed King Groot's Armor Break description to correctly state the amount of Armor Rating being removed
• Fixed an issue causing Captain Marvel, Ronan, and Ms. Marvel (Kamala Khan) to gain a lower amount of PI than they should be from the Liquid Courage Masteries
• Fixed an issue where Miles Morales was missing the flip kick attack in his Special 2 attack
• Fixed an issue where character models were able to get within each others colliders
• Fixed an issue where Electro's Special 2 was not acting as a Projectile
• Fixed an issue where the Double Edge Mastery will cause Cable's Degeneration to activate
• Fixed an issue which caused Doctor Voodoo's SP2 to cause opponent's with Mystic Dispersion to gain Power

EDIT: There are also a number of fixes going live with tonight's Server Maintenance:

Fixed the issue where Dr Voodoo's SP2 is not correctly converting Loas
Fixed the issue where Nebula's SP2 was only removing the Shock Debuffs from Opponents, instead of doubling them
Fixed a text issue that incorrectly stated that Civil Warrior starts a fight with 7 Armor Buffs, instead of 2
Fixed an issue where Phoenix's maximum PI was significantly higher than it should be (back to 13.0 levels)
Fixed an issue where Venom's Symbiote Buff Ceiling was at 9 instead of 5

Hey All,

We are now pushing the button to put 13.1.1 Live.

13.1.1 is a bug fix build that will address a crash issue for players, as well as take care of that annoying pop-up that keeps telling you that the game will now download 0 MB of Data.
Post edited by Kabam Miike on