1st R5 advice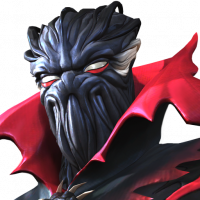 HippoSleek_J
Posts: 142
★
I'm about to do my 1st 5/65, but before I go ahead, I thought I'd show my options, just incase I'm overlooking anything.
I've decided on Symbiote Supreme, he's dupped to lvl 60 and I have another 40 sigs IF needed.
The reason I'm here is that I have Mystic, Science and Skill 5* awakening gems as well as 100+ skill and Science sig stones and the cats to take a Skill or Science champ to 5/65.
It's taken me a loooong time to build up the 2X t5 basics, as I haven't been in an alliance for about 2 years, so do I go ahead with Sym or wait to get a god tier Skill/Science champ or maybe one of the other R3/5s I already have?
It's a free account, I play for fun when I have time. Not done any varient quests or LOL, I do monthly quests most of the time (Sym made Silver Surfer really easy!) and I do arena every now and then.
As a side note, I only pulled Black Widow 4 weeks ago and I've been playing for 5 years, so my hope of pulling one of the above champs isn't high, I must have annoyed the gods of the crystals some how 😂
Thanks in advance 🙌