What's been your best string of pulls?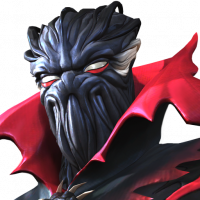 Wozzy101
Posts: 613
★★★
There's loads of posts complaining about rubbish RNG pulls, lamenting adding another Hulkbuster, Diablo or Cyclops (Sorry Kabam Miike) to the roster. So this is my positive post about when RNG goes good. Over the past 2 weeks I'm riding this wave of 5* pulls.

Namor
Dr Doom (Featured 5*)
Captain Marvel Movie
Man Thing
Superior Ironman (Dupe)
Hawkeye (Dupe)
Guillotine 2099
Ghost Rider

Ok Superior Iron man isn't great, but the rest are fab. Have Dr Doom as a rank 5 already. He's amazing!!! Need to start taking the others up. And with Ghost Rider I finally have a mystic for my 2015 rank up gem from Variant 4. Hawkeye was already at rank 4 thanks to another 2015 rank up gem.
Now I'm 355 shards away from my next 6* and hopefully the run will continue into a he 6*. So guys, there is hope! What's been your best run of great champs been?