Math behind attacks boost with Nick Fury and Black Widow Claire Voyant (BWCV) synergies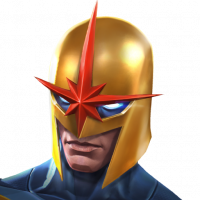 altavista
Posts: 272
★★
I have a question regarding how these specific synergies interact to change the attack value.

Assuming both are on your team, and using BWCV (who I believe is tagged as a hero), and using an attack of 100 as an example, how does the math work out?

NF should give BWCV a 10% attack boost, so her attack should now be 110 as a baseline for being on the team.
If she faces off against a villain opponent, is it an extra 10% of the base or 10% calculated based on the new total? (Meaning does she get an extra 10 on top of the 110 for a total of 120, or does she get an extra 11 for being 10% of 110 for a total of 121).

Difference seems negligible in my example but makes a difference at higher values, and certainly over the course of a fight.

For reference:
Black Widow Claire Voyant: Guilty Souls - All champions gain +10% attack when fighting against Villain Opponents.
Nick Fury: Nick's Leadership: All Hero champions except Nick: 10% Attack rating. This boost is doubled if Nick is Dead.