**Login Issues - Update**
Summoners experiencing error messages during login, we have been manually navigating around the issue for each player; you should be able to log in again!
We will be releasing a hot fix in the next day or two to resolve the issue entirely.
Allow us to trade T4CC for Gold/Iso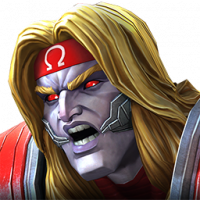 Evangelionlovr
Posts: 452
★★★
I, as well as many other veteran players I know, have a huuuuge surplus of T4CC. 30 T4CC crystals, 1600 T4CC fragment crystals, 22 GGC and 10 GC (not to mention a full inventory of every class of T4CC besides Mutant and Skill (due to recent rankups)
I am, however, out of Iso and gold. I just completed act 6 (best bossfight of all time, BTW) and I can't even finish leveling the champs I ranked up from those rewards (let alone the few more rankups I want to do) because I am completely out of ISO and Gold.

3 Rank Up currencies is too much, especially with how much gold/iso it costs to rank a 6* (got my first R2 worthy champ, and jesus christ is leveling him up an insane iso sink). We need a better, more consistent way to get Iso and gold. Not everyone has the money to whale on Cav crystals like all the youtubers.