UPDATE: A new Hotfix (v32.2.3) is now being released to address this issue. Please keep an eye on your App Store for this update to address the below issue.
We are currently experiencing an Error when Summoners view a Champion's Synergies while in the Champion Selection screen in Arenas and Duels. We are aware of this issue and are working on a Hotfix to address it. In the meantime, please avoid using the synergy menu to prevent this error and crash. We apologize for this inconvenience. Updates will be posted here:
https://forums.playcontestofchampions.com/en/discussion/293506/error-when-looking-at-synergies-from-champion-selection-screen
2 years and 7 mounths of progress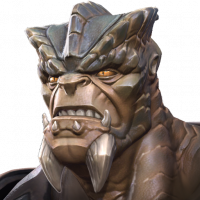 Cats4life
Posts: 141
★
2 years and around 7 mounths ago I never thought I would be able to get a five star because I was the equivalent of a toddler trying to do a judo flip off a table at playing mcoc. But here I am now and it makes me proud to know that I have managed to get past 15 5 star champs.
But it also made me want to know how my fellow (I know this is gonna be cringe) gamers are doing for your 5 star roster. So come on take a screenshot of your 5 star roaster and if you dont have one well don't worry you'll get there it just takes time.