Earlier today, there was an issue where Summoners that logged on shortly after the Login Calendar switched over for the day didn't receive the Cosmic Ghost Rider login crystal. We've fixed the issue for players receiving the crystal now but will have to collect data and send out the crystal to all players that didn't receive it next week. We apologize for this inconvenience and look forward to making it right for you all.
Attacker frame locked while blocking a heavy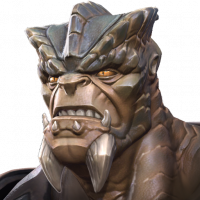 the_eradicator
Posts: 249
★★★
This bug came up in the forums a few months back when doom was released in the contest.
This happens when the defender starts a heavy animation and you start block and then you are unable to swipe back as if you are stuck there in that blocking animation .
This is similar to you getting stunned passively by doom when he goes for a heavy . This is an issue I have experienced since a long time , also there was a forum post regarding this thing .
Will this be fixed anytime soon is the question.

This discussion has been closed.