Human Torch Map5 second mini needs to be changed!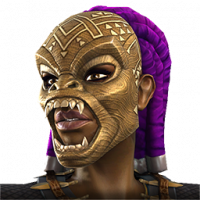 Unknown_Soldier
Posts: 148
★★
It's a Map5 mini NOT even the final boss! Bleed Immune ...so 80% skill champions that benefit from bleed debuffs and have a class advantage now mediocre against this fight.......Buffet that heals a ridiculous amount HP which means u cant evade without healing him for couple 1000 HP. If u DONT evade his L1 Special he gains heat and can incenerate you just from hitting him......AND you put a buff that makes his incenerate MORE powerful.......seriously?!

So basically you force players to have either Red Hulk Void and a few other champs........what happened to wanting to allow players to use Whatever champ they want?
Stop catering to all the cash cows and whales......they have map 6 and 7 if they want a challenge! At very least the Buffet node needs to be taken off! This boss is ridiculous and feels like a excuse to FORCE people to buy revives. This fight feels like a Act 6 fight and it shouldnt.

Thank you and please comment.