Act 6 Completion - finally decided to go for it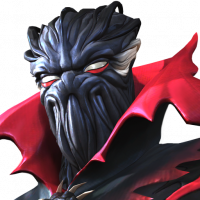 Wozzy101
Posts: 613
★★★
So just prior to the when the initial feedback thread came out, I was bored with the game. I had beaten 6.2.6 Champion (fluked with CAIW) and this was all I was going to do of act 6. Every monthly EQ is done without using any items. All variants done but Abyss feels like a bridge too far. So I had nothing to do and the game was more than stale. But then I had nothing to push me to play anymore. So after re-watching Seatin and KT1's videos of act 6 I decided that with my roster I can absolutely do at least an initial completion. Reading that there would be the Nerf of Act 6 I stopped carrying on. But over the last week decided, sod it. I've taken the gamble that I'm more likely to get compensation of some kind with at least a completion run (if I'm wrong so be it). So over the last 2 week I've pushed on. It's forced to me grind arena for units, grind ROL for potions. And then last week, thanks to Canada we were got all those lovely poutine revives maple syrup healths.
Over last 2 days I've have done easy runs of 6.4.2 onwards. Today I took on the Grandmaster. It took a while to get to grips with the fight, thank the Lord for my max Sig Aegon! But It was really fun once I got used to the mechanics of it all. I already had 20k in 5* and 2k in 6* shards. So was able to do my own little crystal opening. Pretty happy with the 5* haul. Finally have a 5* Ghost! I can't complain with the 5* Nexus either. Would have preferred different 6* champs but ho hum, OML isn't to bad.
This gives me some confidence that when the Chapter 6 Nerf is done I can look for 100% percent exploration. Just need that 6* nerf to come quickly!
j