**HOTFIX AND GOODIES**
Our latest Hotfix is now live for both iOS and Android! Please manually update your game. Additionally, because of the bugs' impact on energy refill consumption, we have provided summoners with Energy Refills and a few other items to assist in the Contest! Sign in and check your messages now to claim yours!
UPDATE UNCOLLECTED EQ LONG OVERDUE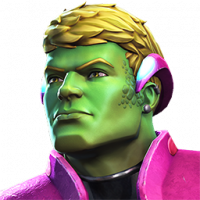 mbennett1995
Posts: 29
★
The rewards for UC EQ are outdated and absurd for the amount of resources that go in for 100% completion. The last few have lacked in difficulty but that doesn't mean that the rewards should be lacking, because it's still challenging to a lot of summoners. Being newly Cavalier, I still need Uncollected rewards, but I constantly find myself in Heroic and Master EQ grinding for T1A. The only way I want to be doing heroic and master is for a legends run or topping off shards for a crystal opening. The no T1A in Uncollected is just absurd, it takes 22 T1A to take a 5* champion from rank 1 to rank 5. Doing heroic and master only gives you 5 T1 alpha. T2A on the other hand is even harder to come by but yet I can get plenty of it in Act 5&6.
Yes, I can burn 3K glory every week topping up on T1A but that shouldn't be the most efficient way of acquiring it, because there are still T4B and T4CC that need to be acquired to rank up 5*s. The fact that there's only 25% of a T2A offered for 100% UC is also ridiculous, if you're not gonna give us that, then give us T1A. There's been many times where I chose not to 100% UC simply because the rewards and resources just isn't worth the time and effort it takes.
As far as shards, there needs to be 75% of a 5 star crystal for 100% of UC. And the other 25% can come from 100% of Master. The game has evolved and progressed, and so should these rewards. 5*s aren't nearly as valuable as they used to be and the rewards need to dictate that. The shards don't bother me nearly as much as the lack of rank up resources do.

Heroic- needs rewards and resources for 3/4* champs.
Master- needs rewards and resources for 4/5* champs
Uncollected- needs rewards and resources for 5/6 champs (including T1A)
Cavalier(when added)- needs rewards and resources for 6* champs.
Between Master and UC, there's no reason whatsoever why there can't be at least 6 T1A for 100% completion of both.

I understand you don't want players to progress too quickly but that's why you have gates to prevent them from doing so. And if they're a whale, it's not going to matter much regardless because they can buy their way into titles such as UC and Cavalier. But holding up the progress of a lot of players because rewards are severely outdated doesn't help the game. T2A and T5B and up still should hold their values some as their used for 6* rank ups, but as far as T1A it should be candy for those that are Uncollected and above, there never should be a struggle for players of that caliber to have to grind other content for it.
Please update the rewards, it's been far too long, you have a perfect opportunity here to update all of them as you add a Cavalier difficulty.