Mephisto vs Venom: this interaction REALLY IS a bug!

Magrailothos
Posts: 4,116
★★★★★
Mephisto doesn't shut down Venoms buffs the way he should.
Yes there are a lot of threads on this subject - I've read them - and a lot of people will convincingly hold forth that it's "working as intended", and not a bug.
They're all wrong. And listen/read on before you disagree -
I have been right before
when challenging people's beliefs in this forum.
So the Venom/Mephisto thing?
It is a bug
. And here's the proof: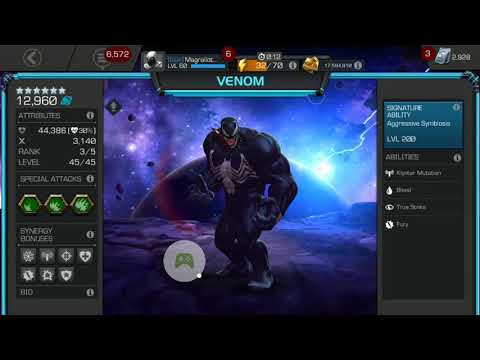 The key facts, if you don't want to watch my very grainy YouTube video:
Mephisto's Soul Imprisonment works by reducing the chance for buffs to proc by 100%.
Some champs can bypass this with a greater than 100% chance to proc, or immunity to AAR (which is fine!). However: Venom isn't one of those champs!
Venom has
no
special resistance to AAR. He also has no specified chance for buffs to proc; suggesting the default of 100%.
At the start of the game, Venom procs buffs as he runs in.
Allegedly
, this is because he procs them before Soul Imprisonment kicks in.
However, I don't think that's the right explanation (and even if it were, I think it should be fixed! Mephisto
ought to
shut him down!): I think there's a problem with his Klyntar Mutation buff; and if it was fixed, those start-of-the-fight buffs might just disappear.
How do we prove this?:
Venom has a specific vulnerability to Incinerate. Incinerating him nullifies his Klyntar buff.
Mephisto
can
Incinerate him, thereby removing him Klyntar Mutation buff. He will simultaneously reactive Soul Imprisonment, which should stop Venom generating any new buffs
However,
even whilst Soul Imprisonment is active
, the Klyntar Mutation buff reappears at the exact time it was going to refresh anyway.
It's a buff - that shouldn't happen
! By comparison, in this video, when Venom triggers his SP2 whilst imprisoned, he consumes his old buffs in an attempt to turn them into Fury buffs
and fails to do so
because of the Soul Imprisonment.
There really
is
a bug with Venoms buffs - at least with the Klyntar buff which is his primary source of power - and it means he bypasses what should be a significant disadvantage when fighting Mephisto. Could the team please take a look at it? And preferably not by adding a line of text to Venoms description, or making his Klyntar buff into a Passive (😉).
Thanks for reading. Thoughts below!