I have a confession to make...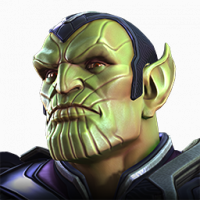 Silentdoom09
Posts: 73
★
When I first pulled Domino as a 5*, I was ecstatic. I already had a 5* Red Hulk and a 4* Masacre, and I was ready to burn through content (literally). The fearsome Flame Trinity led the way through my Act 5 exploration and earned Elder's Bane for me. Then came the push to Cavalier, where my Masacre was useless. The band had to be broken up. Suddenly, I was blessed with a duped 5* Stealthy and a 5* Guilly 2099, and my MCOC world changed. Now, my heart breaks as I move beyond the nostalgic days of laughing hysterically while parry/heavy incinerates melt my opponents.

TL;DR, I've been forced to move beyond my favorite synergy team and I'm sad about it. Have any of you experienced the same?