Hear me out... Rhino is a Low Demi-God tier champion.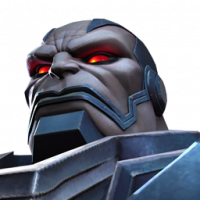 KDSuperFlash10
Posts: 4,311
★★★★★
Rhino is considered a meme tier champion by the majority of the community. I'm here to give you a different insight on Rhino's potential.

Everyone talks about Ghost and Quake's sustainability because they never/rarely have to get hit. Well neither does Rhino. He has GUARANTEED INTERCEPTS! That means that you can keep intercepting with the safety net that you are unstoppable, meaning that you can react if they decide to light intercept you. In addition, through Rhino's awakened ability, he gains extra physical resistance, meaning he will take less damage if he is light intercepted into an unstoppable charge. Also, sometimes, those GUARANTEED intercepts are unblockable, meaning that you can PENETRATE the opponent's block and create an opening for yourself to get in a full combo. This is some essential utility for stun immune matchups, where you can't parry. So keep on dashing in until your attack is unblockable! It's very similar to Nova's play style, in which you keep intercepting to build up his charges. Rhino has a high health pool and above average base attack, which can be improved with his fury buffs.

In addition, many people are undervaluing Rhino's potential as a 6* r3 AW boss. The boss is stun immune, meaning you can't stun them, so you have to rely on intercepts. Unfortunately for the attacker, intercepts won't work against Rhino because he will charge at you with his unstoppable. Pair this with a massive health pool AW boss, Rhino may actually be a menacing threat on AW defense as a boss!

Now I'm not saying that Rhino is a top champion or anything. The truth is he isn't. He needs an update. In addition to his current kit, he needs to have some immunities/resistances to certain debuff effects, more damage, and more utility (such as evade counter vs Spiderverse heroes or slow debuff). But I just think that some people are undervaluing Rhino. He's a decent champion. He's below average, yes, but he is in no way near the likes of meme tier champions like Iron Patriot and Deadpool X-Force. With an update to his current kit by buffing up his damage numbers and providing him with some utility, I think he could be a banging champion.

Cheers folks.