Get a Free 3-6 Star Baron Zemo this Week!
Log in to the Summoner's Market at
https://store.playcontestofchampions.com/
and claim the Baron Zemo Selector between 10am PT November 24 and 10am PT on December 1st.
Proven and Below: 3-Star
Conqueror/Uncollected: 4-Star
Cavalier/Thronebreaker: 5-Star
Paragon/Valiant: 6-Star
You can only claim this Baron Zemo one time. The Baron Zemo is delivered as a selector, claiming it will require you to choose your rarity immediately. If you plan to change your Progression level during the Cyber Week event, we suggest you wait until you have made that change before claiming this selector.
Due to issue with the "Not Another Anime Reference" Solo Event, we will be disabling the event for the time being. We will return the event at a future date when the issues have been resolved. We apologize for the inconvenience.
John Milanese Crystal Drops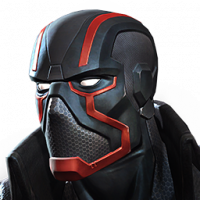 robination3788
Posts: 19
★
Kabam,

This month's challenge was great. It was just that, challenging.

I spent my stored up units, because well, the rewards looked like it was worth it. A fully formed 6* and a 5* Nexus crystal. Come on!

But alas, the disappointment of the champion drop rates within the crystals struck. Now I know this has been denied several times, but, considering the amount of effort and units spent, I'm incredibly disappointed by the drops.

A 6* Iron Man (regular) and my Nexus choices were New School Cyclops, Black Panther and Juggernaut.

Now I'm not posting this for sympathy or compensation. I'm merely voicing my disappointment towards the level of effort and units only to be rewarded champions with little to no utility really takes the motivation to keep playing.

I'm sure I'm not alone in the community and I'm fairly certain that folks have fallen prey to the unit monster that was the John Milanese challenge. But when you're putting forth an effort and investment in developing our roster, it's highly disappointing to be let down in such a way.

...I'm pretty dejected by the results of my crystals and really don't want to gripe. But, man. Come on.