Summoners, due to a technical issue, this week's series of Alliance Quests will be cancelled at 4pm PT. There will not be any Rewards for this series. The next series of Alliance Quests will start on April 18 at 12pm PT. We will be assessing the impact on Alliances and compensating accordingly, as well as returning Alliance Tickets.
Professor X silently nerfed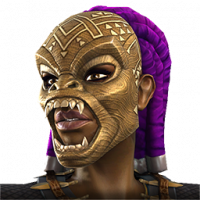 Batty_Numppo
Posts: 258
★★
So after fighting Stryfe and then other champs with the new "Psychic Shielding" tag, I found that champs with that tag (Stryfe, both Mags, Jugs, UC, Sinister and Prof X himself) are treated basically as tech champions when fighting them using Prof X. This means that he gains no vigilance passive at 25+ charges (which first tipped me off to this since I tried and failed using Prof X to bypass falter from Stryfe's node in EQ), and he loses a lot more power after using specials during mind control.

It's a mechanic that I guess makes sense logically, but I gotta say I'm not a fan of Kabam introducing new mechanics in the game that nerf characters with no announcement. This champion tag may be a small pool, but what's to stop Kabam from suddenly saying Quake can't cause earthquakes/aftershocks against #Flying champs one day. Or whatever other tag-based nerf that's introduced and that affects basically just one champ, well after that champ is introduced in the game. Just not a cool practice.

Anyhow, just thought you'd all want to know. If somebody has already seen Kabam announce this then please correct me.