Summoners, due to a technical issue, this week's series of Alliance Quests will be cancelled at 4pm PT. There will not be any Rewards for this series. The next series of Alliance Quests will start on April 18 at 12pm PT. We will be assessing the impact on Alliances and compensating accordingly, as well as returning Alliance Tickets.
Unpopular synergies!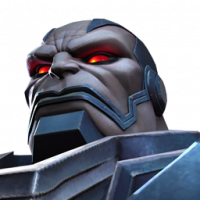 SliceandDice
Posts: 54
★
So I know there are some popular and powerful trinities like the holy Trinity,ghost Trinity etc. But there are some really good synergies (I am not calling them trinities yet cause they can benefit a lot from 1-2 add-ons) which are not that popular.

beware of the robots Trinity-
Apocalypse
Cable
Archangel(horseman)

Apocalypse gains all 4 charges on his first fight and AA gets a lots of neurotoxins. But the real difference it makes is for cable as he puts degen on every heavy hit and the damage is very good. This team can counter almost everything except robots as apoc doesn't get charges from them(I believe),cable doesn't put degen and AA doesn't work cause of immunity, hence the name.
I usually add magneto to this to counter robots and thus making a
Gamebreaker Quad
Apoc has many synergies and make any mutant god so you are free to make change as you want but I think this is the most effective one. And I forgot cable has good regen too.
Post edited by Kabam Ahab on