FINALLY DONE WITH 6.2!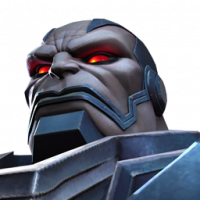 Dragfire1760
Posts: 148
★
After waiting almost 6 months for a counter to the 6.2.2 sinister, I finally just decided to open a cavalier crystal today, from which I got a 5* nexus!
Yeah it was crazy and I was so happy, but once I opened it I dreaded it
I took almost half an hour to decide, and finally chose captain Marvel. I did that mainly cause I have no good cosmic other than Terrax (unpopular opinion, I love him and r4d him!), And I had sentinel so I was fine on the tech side of things.
Mister sinister took a total of 10 revives! He took more revives than I used for the rest of the entire thing, but my r3 captain Marvel finally took him down
6.2.3 -icarus was really easy, I just used quake, colossus and human torch for it. OR was fairly simple, I first tried my human torch, failed miserably and switched to quake, she worked phenomenally since he decided to stay away during aftershocks, which let me take him down in 0 revives
6.2.4 -Destructive feedback did throw me off sometimes, but stark Spidey and aegon worked really well, and I only used both of them for all the fights. Kingpin I was scared of, since I thought his buff would make him really difficult, but my r4 Ægon made quick work, and I had to use only one revive cause I made one mistake during his unblockable phase and got hit
6.2.5- Do not go gentle was surprisingly easy for me (maybe cause I had colossus who wiped the entire C path), and for mordo I used red guardian, who made the fight suuuuper easy. He's definitely getting r5 + max sig later. No revives here
The final, 6.2.6- meh. Not that bad honestly. The entire path was really simple and only annoyed me a little bit, I didn't KO any of my champions. I did try to use tigra against the champion boss but he kept triggering his unstoppable so tigra got him down to 85%, then I used sym supreme and I forgot I had just got MD to 4 that day, which made this guy suuuper easy. I considered bringing sorcerer supreme as well but from the practice I had during the event where they brought the guy to a side event, her sp2 slow wasn't stopping that unstoppable from triggering so I decided against it. One revive used cause I tried to block his medium (yeah stupid mistake) but other than that, super clean fight.
6.2.1- don't remember what I did, I completed it a long time ago. Really simple if you've got torch tho.
This thing was insane, 0 units used, all revives from stash, and mister sinister- you're never getting any love from me. Even if you get buffed and can one hit kill anyone. You can suffer.
Then, the crystals- meh luck but considering I got cmm that morning (who I love playing), I didn't care much
Cavalier crystals-
Five star crystal(went against C/T dual, but I guess they won't let me stay away)-
6* crystal- not too sad cause daredevil actually helped me a ton in act 4, and I like playing him for the simplistic animations, also just love the guy as a character
Was this worth it?
For the crystal pulls? Nah definitely not. But I really enjoyed playing against the 6.2 champion, so now I can do it whenever I want, so I'm pretty happy
Next up- suffer trying to find a counter for every single 6.3 boss 🙂