**Known AQ Bug**
We are aware that some alliances encountered a bug during this last AQ that would not allow them to start maps on certain days. We know this has impacted your rewards.
We have been looking into the cause of the problem and once we have resolved it we will explore how to make things right for the impacted alliances. We will provide any additional communication in
Summoners! The Tiered Unit Offers available during the Summoner Celebration sale are only available until July 4th at 10 AM PT, unlike the Unit Store offers, which are available until July 5th at 10 AM PT. We apologize for any inconvenience or confusion this may cause.
Moleman Bugged for Stunning Reflection Polka Dot Power Node in AW
TheJalli
Posts: 11
★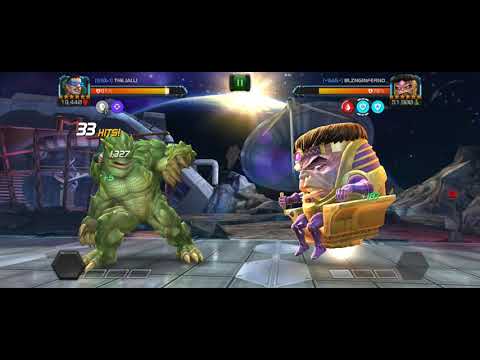 Node 53, T1 War, Stunning Reflection + Polka Dot Power
This video shows that 2 things are bugged in this fight.
1) Moleman is gaining no power even though he is inflicting bleeds on MODOK. Polka Dot Power should be giving him power.
2) Moleman did not purify either the stun debuff (could have been max pacify on the defender, unlikely though) or the incinerate debuff that was inflicted from the heavy.
These two mechanics are what make Moleman an excellent counter for this specific fight, neither of which activated.