UPDATE: A new Hotfix (v32.2.3) is now being released to address this issue. Please keep an eye on your App Store for this update to address the below issue.
We are currently experiencing an Error when Summoners view a Champion's Synergies while in the Champion Selection screen in Arenas and Duels. We are aware of this issue and are working on a Hotfix to address it. In the meantime, please avoid using the synergy menu to prevent this error and crash. We apologize for this inconvenience. Updates will be posted here:
https://forums.playcontestofchampions.com/en/discussion/293506/error-when-looking-at-synergies-from-champion-selection-screen
Buff characters in a good way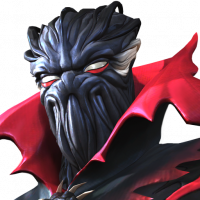 Luciferiamdevil
Posts: 72
★
Hello guys today here for a bigger concern which is buffing up the characters to make them more usefull but when these buffs doesn't live upto the expectations it just doesn't feel bad enough but it also ends any future scope for a good buff for that champion.
One example is yellow jacket buff which frankly speaking is the worst buff until now and it's more like a nerf than a buff, I had YJ as a 6* and I was pretty excited about the buff but it turned out to be an utter disappointment and with this buff now I know it's gonna remain the same useless champ again in the corner of my roster.
I never complained about it cz not every champ can be God tier but now the recent coming buffs include Howard the which is gr8 now, crossbones also looks pretty solid but the third one which is nova a pretty solid character in marvel universe(not according to game) is getting minor number adjustments only without changing him in any way to make him useful and you know what I got him as a 6* as well 😂...two champs which I have as a 6* got buffed but didn't change anything at all, they were useless before and they are useless post buff
So my suggestion is please kabam take some more time doing whatever you guys do but do it so that nobody regrets it.
Peace out 👍