Daredevil (classic) Rework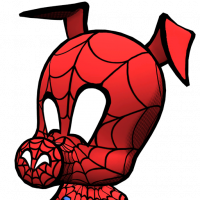 Dex_Rebırth
Posts: 37
★
Daredevil (classic)
Animations:
Basic attacks-
1st Medium- 1st light BW DO
2nd Medium- 2nd medium (masacre)
1st Light- 2nd light Black widow DO
2do Light- 3rd light Black widow DO
3rd Light- 2nd medium Cap IW
class: skill
Stats: Stats are based on Rank 5, Level 65, 5-star rating
champion.
champion attack: 2309
block proficiency: 3001
critical rating: 1535
critical damage rating: 1259
prestige: 13576
SIGNATURE ABILITY- "The man Without Fear":
Matt Murdock's acrobatic skills and radar sense allow him to have a 100% chance to evade all projectiles (as long as he is not blocking). Each elution gives you 5 radar sense charges.
PASIVE:
-Daredevil's sense of radar predicts the opponent's movements gives him a true accuracy passive advantage that prevents any character from avoiding his attacks by 100%.
Daredevil's attacks do not establish physical contact so it is immune to thorns.
-Daredevil's critics hits have a 10% chance to leave an accumulative vulnerability debuff on the opponent for 20 seconds (this chance increases with more Radar Sense charges).
Radar sense
-Superhuman senses endow Daredevil with a radar sense that allows him to study the opponent and find his weak points. Radar Sense starts at 0 charges and increases when a heavy hit is charged (max 30 charges). Upon reaching 30 charges, Daredevil activates Echolocation.
Echolocation:
-Ensures that the first weak hit and the first and last medium hit are critical.
-Each critical hit has a 100% chance to leave vulnerability on the opponent (each vulnerability debuff reduces the opponent's armor rating by 500).
-Guaranteed Criticals on Super Attacks.
Heavy Attack:
-Charging a heavy attack increases radar detection charges (max 10 charges per heavy attack charged).
-Leaves a disorientation debuff that reduces the opponent's abilities by 80%
SPECIALS ATTACKS
SPECIAL 1- guardian devil
-Renews vulnerability debuffs and grants 10 radar sense charges.
SPECIAL 2- blind Justice
-Provides a fury buff that increases attack by 15% for 20 seconds
-Each vulnerability charge is removed providing 1036 direct damage for each charge.
SPECIAL 3- world on fire
-Enter echolocation mode.
-Triggers a precision boost that increases by 8,400 points for 50 seconds.
.
.
.
.
Help me refine this idea to make it more solid please
Thanks for reading! and sorry if there is any part that I do not understand, I am using a generic translator. I do not know much english.
Post edited by Kabam Zanzibar on