Summoners, the Necrosword Crystals (the crystals in the Knull Cavalier Preview Bundle) currently have a higher than intended drop rate of 6-Star Champions.

We will be leaving the crystals as is for the time being, but will be correcting the drop rates before Knull receives his official release on October 28th. To ensure that this does not affect anybody that purchased this preview bundle, we will be auto-opening these crystals before that date, but this means you will not see what you received. To avoid any confusion, please open your crystals yourself ASAP.
Seeking Advice: Sig, Awaken Gem, Etc.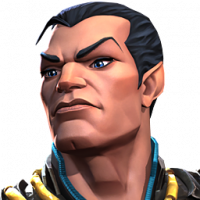 zaspacer
Posts: 52
★
Well, following some July 4th deals and completing content, my account has sprouted some odd issues for me to resolve. The most immediate being 10x 6-Star Basic Signature Stones in my Overflow Stash.
As much as I'd like to sit on my 6-Star Generic Awakening Gem for an ideal candidate (Ghost, Nick Fury, Corvus, Archangel, etc.), I'm a bit worried that I won't get such a target for a long time, and this will just result in more and more 6-Star Basic Signature Stones getting dumped into my overflow. Which is why I'm kinda leaning on Awakening Doctor Doom and then using him as a 6-Star Basic Signature Stone dump.
Please let me know your thoughts and suggestions.
I have attached the image below to sum up the resources I am working with. Note that I am a newbie Thronebreaker, and I expect to be developing further resources at a fairly slow pace. I'm also in a super casual Alliance, with no plans in the short term to be chasing high level AQ or AW. And I don't plan to be doing any High End content other than monthly stuff anytime soon.