As we continue to work to address ongoing issues regarding Parry and Evade, we will be extending the Week 4 Quest of the Summer of Pain and its Solo Objectives by 1 week to better allow you to complete this content. This will not result in next week's content being delayed.
SENTRY BUFF NEEDED ASAP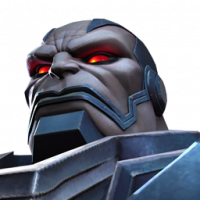 YSK_Rebels96
Posts: 15
★
I know this topic is way more discussed than I am posting but really need Sentry Buff rather than new Spiderman 2099.

During a meeting with Professor X, Emma Frost openly stated that the Sentry's powers are godlike, and during his time as a member of the Dark Avengers, Sentry's profile note that there is no limit to his powers and that he is nigh-omnipotent, thus making him the strongest member in the Dark Avengers Team.

Kabam Lords do listen summoners as Sentry is Powerhouse of unlimited powers do consider all summoners and make him buff like magneto and colossus in September Month.

Thank You..
Post edited by Kabam Valiant on