Quite possibly the boldest 6* nexus choice you've ever seen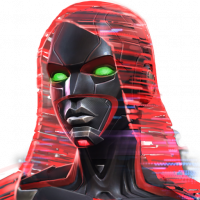 Kill_Grey
Posts: 8,666
★★★★★
So act 6 exploration gave me this great nexus (that **** takes absolutely forever to explore, man!). From the title, I guess you could already figure out what I chose...
Yup. Chose iron patriot
and for a few reasons:
- no skill or mutant AG (didn't pull one from the ag crystal). Definitely not gonna use an unawakened Nick or omega for literally anything simply because:
- I already have them as 5*s and Nick (which would possibly be the clear choice for a lot of people) is maxed and awakened. Plus my skill 6*s are pretty good already.
- iron patriot is sure to get buffed, and my 6* tech roster is freaking bad lol. Only this dude and vision AoU are my tech 6*s (after all this while), and I have 1.9 tech t5cc currently.
So here's to hoping this man receives a godly buff at a near point in the future.
This discussion has been closed.