UPDATE: A new Hotfix (v32.2.3) is now being released to address this issue. Please keep an eye on your App Store for this update to address the below issue.
We are currently experiencing an Error when Summoners view a Champion's Synergies while in the Champion Selection screen in Arenas and Duels. We are aware of this issue and are working on a Hotfix to address it. In the meantime, please avoid using the synergy menu to prevent this error and crash. We apologize for this inconvenience. Updates will be posted here:
https://forums.playcontestofchampions.com/en/discussion/293506/error-when-looking-at-synergies-from-champion-selection-screen
Don't make gamora buff live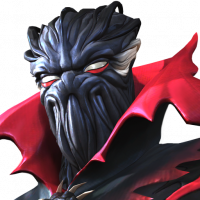 Luciferiamdevil
Posts: 72
★
We've seen some horrible buffs which didn't make change in the one thing that is the usability of the champion and gamora's champion spotlight is another addition to that guys, even after reducing the number of champions buffed per month from 3 to 2 still we're seeing these kind of buffs which lets down the community, so a simple thing which can be done is either make a change in her abilities which allows her to passively stun opponent in mid combo as
@TheKiryu
said in his video (
@Kabam Miike
you should really checkout his YT channel) or don't make this buff live and buff her in the next month.