Summoners, the Necrosword Crystals (the crystals in the Knull Cavalier Preview Bundle) currently have a higher than intended drop rate of 6-Star Champions.

We will be leaving the crystals as is for the time being, but will be correcting the drop rates before Knull receives his official release on October 28th. To ensure that this does not affect anybody that purchased this preview bundle, we will be auto-opening these crystals before that date, but this means you will not see what you received. To avoid any confusion, please open your crystals yourself ASAP.
Guillotine's buff and how I feel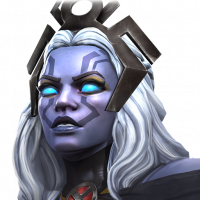 Pin_the_AvengerPGT17
Posts: 212
★
The buff feels goods. It keeps the core of the original kit, but expands exponentially on it. Reverse healing could've been expanded upon, but that part i don't care about. After the game is finally fixed, Guillotine's new health steal mechanic can feel more potent due to the fact that we aren't dying often, but that's hopeful. The awakened ability could've been better, but with only a few months, this is actually good imo. Unblockable specials does help. And the soul charges are more useful now, that was the core thing I actually wanted, and I received it.

This is a thank you letter for the buff that should have a part 2 when the buff goes live. It looks good on paper, let's hope it translates to actual fights.