I don't believe in Knull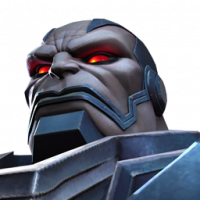 MaxtheSilent
Posts: 567
★★★
So I actually think Knull will be a solid champion. He actually reminds me of Apocalypse in terms of people not being able to appreciate his kit until they experience him. There is enough there that I think he will prove to be solid on offense and a pain on defense.
But as much as I enjoy playing Apocalypse it's his synergies that really make him one of the most valuable mutants in my opinion. We won't know how good Knull is on offense until we play him but we know now he isn't going to do the one thing we all expected of him. He doesn't boost other symbiotes via synergy or preflight ability. Even if a horseman benefit was too much I expected something between Warmachine or Odin and Prof X. In the recent interview of his designer they teased a mutual benefit between symbiotes and Knull. I think it's safe to say many people were expecting better synergies or a prefight boost.
The designers must have known the community was expecting something along these lines and I don't understand why they couldn't lean into what would have been a popular design choice that surely could have been done in a balanced manner. For goodness sakes Red Goblin gives better synergies to his fellow symbiotes than the supposed god of the symbiotes! If Apocalypse and Prof X are at one end of the spectrum with War Machine at the other and Wags and Odin in the middle I'm saying Knull isn't even on the spectrum.
They could have done his kit exactly the same and given a guidance level boost or resistance of some kind, enhanced DOTs, or even just increase buff potency. I just can't think of a reason not to do something like this. If I was a Symbiote I'd lose faith and become an atheist. As it stands I don't believe in Knull.