We are currently experiencing an issue causing a delay in delivery of Summoner Advancement, the Alliance Quest event, and other 3-Day X-Men use event. We are working to resolve this, but it will likely take a few days. We will ensure that these rewards are delivered to affected Alliances. Please do not change Alliances until your rewards are delivered.
4 Star Rank Up Gems -awakened- question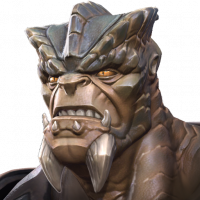 LumpDeChump
Posts: 67
★
I am in the process of trying to obtain the 4 star rank up gem from act 5. If you use it on an awakened champ do you lose the awakening and all their signature abilities???

I would assume that is the case but keep in mind the awakening didn't always come free. Because of limited opportunities of attaining awakening gems I have purchased a few. Some $99. Then I received signature stones at costs. Hell my Doc Voodoo alone has a value of $150 (keep in mind that's 2-3 Xbox one games, WHOLE GAMES) and that doesn't include the amount spent on my account which is equivalent to 3 platforms (Xbox, PlayStation, Nintendo +several games for each).

I hope I'm wrong about that but this game is full of numerous awesome highs but far more disappointments. Please let this be on the positive side.