Ranking Help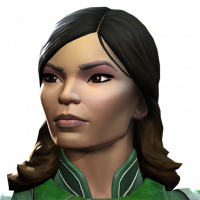 SgtSlaughter78
Posts: 447
★★
Guys I need your help. I'm not sure who to rank.

My normal questing team is fine, all rank 5 high sig level awakened 4*s: AA, GP, Yondu, Ultron and Angela.

I can rank 3 a 5* unawakened Majik or I can rank 5 some duped 4*s. They are:

Hulk
Miles Morales
OG Spidey
Cappy WWII
Scarlet Witch
Agent Venom
Symbiote Spidey
Storm
X23

I can take Ghost Rider to R5 too and have a generic awakening gem, so that's an option.

Just not sure what road to go down. Would be grateful for any views.

Thanks.