**UPDATES TO ENLISTMENT GIFTING EVENT:**
To prevent exploitation, we will prevent new Accounts from being able to Gift enlistment crystals. We will also be taking action on those who are using 3rd Party Sellers, Bots and other farms to gift themselves mass amounts of Enlistment Crystals. Lastly, we will be adding an expiration timer to Enlistment Crystals. All unopened Enlistment Crystals will expire on Oct 18 @ 17:00 UTC. For more information, please see this post:
https://forums.playcontestofchampions.com/en/discussion/346104/updates-to-enlistment-gifting-event
A F2P Suggestion for Those Seeking Paragon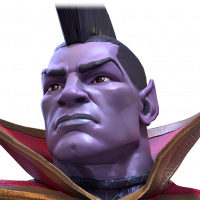 Polygon
Posts: 2,749
★★★★★
I was thinking, since the majority of players attained this through spending , and given the recent 7.4 deals that were bugged (allowing players to purchase twice , this may have been a massive help to some, but the reality is that most players don't have 20k units to fork over to be able to acquire the deal a 2nd time.

I personally did have 20k units, and got the deal once. Not entirely sure, if I'll get it again (i'll be at just enough for a 2nd r4) since the material is being added to side quests, EOP, july 4 and cyber monday etc.

Nevertheless, this post is for those that don't have that kind of money or units to chuck away for the r4 mats.

My idea was, potentially a new arena that awarded more units or a revamp in the current alliance /single player milestone rewards to have more units available.

The arena can be made available for a limited time (such as until the end of EOP or something). This would give some players a chance to get some units by the next time the 7.4 deal drops , and if thats already coming up soon, then at least for july 4.

The 7.4 deal has great value, sure. But, not everyone has the units available, or some may prefer to save their units for July 4.

Let me know your thoughts.