To Exit or Not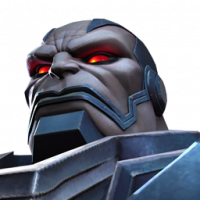 MaxtheSilent
Posts: 561
★★★
Yesterday I took on the Grandmaster for the first time. He is currently sitting at 72% health and I've sunk a lot of units into him. It's not that any one challenge is too hard but the AI is just so aggressive ( post infuriate) that I just end up taking hits or missing a challenge because I'm trying to get out of the corner. So now I'm wondering whether or not to exit out or stay in because I've invested so many units already and I'm 28% of the way to finishing the fight. I really wanted to get this done pre-nerf. Especially since the nerf wont even help me in this fight! If I hadn't already dumped so many units I'd just leave and try again but it's hard walking away when you've put in money and some progress has been made. So three questions:
1. Should I leave the quest and just keep trying it from the beginning?
2. If I stay in will I be forced to exit when next months update comes?
3. Any tips for dealing with this aggressive AI that keeps cornering me?

I'd appreciate any constructive feedback people have. I think I am capable of this fight ultimately but I'm going to need a new strategy for dealing with phase 2.