Grandmaster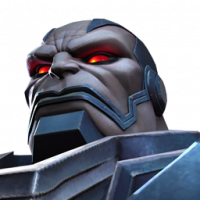 MaxtheSilent
Posts: 561
★★★
I have a few questions about the Grandmaster fight:
1. If you have someone who block unblockable attacks like Sinister and he block the sp1 beam is that a blunder?
2. Does Hercules bonus physical damage count as a damage effect for phase 2 challenge? I found duped Magnetos heavy counts so I didn't know about Herc.
3. In phase 2 can you trigger wounded without completing each challenge? I saw a video where someone said you could skip a challenge and still get him wounded so I'm confused. I thought you had to do each of the 5 challenges but maybe it's just 5 total?
4. Can Prof X mind control? Can GM be taunted? I know he can't be power locked , drained or burned but was wondering about these two power control tools.

I'd appreciate any information you all have on these aspects of the fight as they will inform my team for next attempt at the GM fight.
Post edited by Kabam Zanzibar on