I'm completely stuck and lost and I need help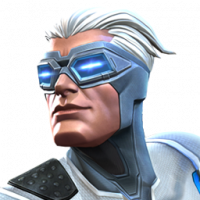 MilesMorales3169
Posts: 36
★
I've been on act 5 for a few days/weeks now. I have to spend a ton of units per quest.

And when I say a ton, I'm not joking. I literally had to spend almost 400 units on healing & revives on 5.1.3 and I feel like crying. And everyone talks about how these are the "easy" quests, so how many am I gonna have to spend on future quests???

My team is not bad at all, with 5* warlock & Hyperion on rank 3, 4* prof x & spiderman miles morales on 4/40, and 3* archangel maxed.

I've been grinding arenas for hours, spent a while trying to find good mastery setups, tried replaying over and over the same quests again, and watched multiple guides on act 5.

Whenever I play a match on act 5, I try to stay patient but almost always something goes wrong, whether I can't succeed baiting the ai, they intercept my attack with their attack/sp, or something else gets messed up somehow, killing my champ.


Please tell me, what in the world do I do to get uncollected??? I only beat the first 3 quests so far. I can't spend a ton of units on every quests or I'll run out. Thanks.
Post edited by Kabam Valkyrie on