**UPDATES TO ENLISTMENT GIFTING EVENT:**
To prevent exploitation, we will prevent new Accounts from being able to Gift enlistment crystals. We will also be taking action on those who are using 3rd Party Sellers, Bots and other farms to gift themselves mass amounts of Enlistment Crystals. Lastly, we will be adding an expiration timer to Enlistment Crystals. All unopened Enlistment Crystals will expire on Oct 18 @ 17:00 UTC. For more information, please see this post:
https://forums.playcontestofchampions.com/en/discussion/346104/updates-to-enlistment-gifting-event
**KNOWN ISSUE**
We have adjusted the node placement of the new AW maps to better allow path traversal. As a result, defender placements have been reset. Please, take a moment to re-place your defender setup. We will be pushing out a message in-game shortly.
Gifted items expired before the deadline

TBJ1118
Posts: 228
★
I know, I already wrote the support but they didn't seem to want to understand, even facing screenshots proving my point. I exchanged many revives with my alliance mates during the gifting event, and I therefore received many emails like this (this has only 1 revive as an example, the one I miss had 20)
As you can see the timer reads 29 days. I apologize, it's in Italian, but I guess you guys received the same email in your language. Anyway, the items appeared also in my stash with a 7days timer. As here
My inventory was full so I decided to claim the revives later on, so to start a LOL path later in the month when work would have allowed me to play. Unfortunately once the 7d timer expired also the first email with 20 revives with the 23 remaining days timer disappeared. As soon as I noticed it I claimed all the other revives I received, but still those 20 are gone. It's 800 units worth!!! And the in game mail said the items to be claimed would expire in other 23 days!!! But they are nowhere. I showed this evidence to the support but they said the timer refers to the expiration of the gifted items that would be of 30 days and not of 14 as all the normal revives, and that despite the timer I should have claimed the gifts by the 7 days. However as you can see the revives I claimed have 13 days timers, not 23 or 30 as they say!!!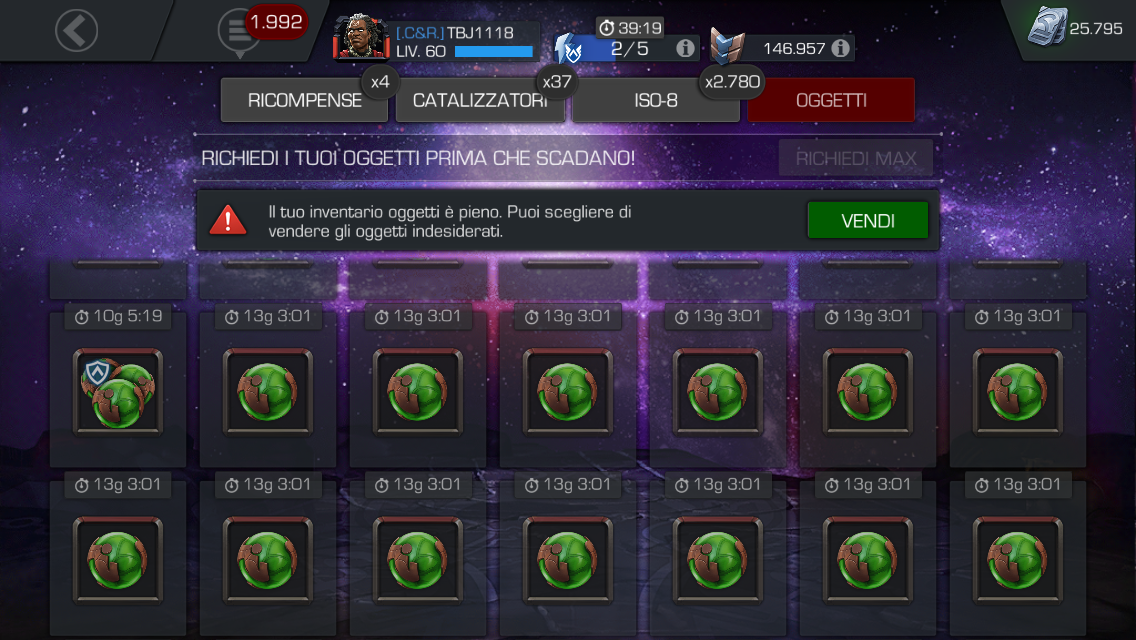 The in game mail timer allowed me to claim the gifts in 23 more days, this is totally unfair! Can I receive professional help from someone that won't just close their eyes in front of evidence as the support did until now in my case?
Thanks.